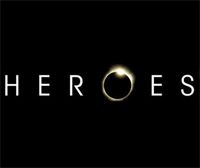 That's right, faithful reader. I've reached the end of my stick with writing about this show but before I go, a few parting shots:
You know things have gone awry when I'm rooting for Sylar to kill the Typhoid Twins.
What's the point of Sylar anyway? He has essentially been reset to season one Sylar, trying to get his powers back up.
Speaking of reset, this show as too many characters and stories back at square one

Peter is trying to figure out his powers
There is a dystopian future he must prevent
Issac's paintings are the key even though he's been dead for 5 plus months storywise and despite his spell of no input due to not being high, we're too believe he painted at least 7 more future laden clues before Sylar ate his brain
Mohinder trusts the wrong guy

Mohinder is the symbol for everything I hate about this show right now. His character is so dumb it is beyond comprehension. I remember how happy I was when I thought Sylar killed him last season.
I don't care about Claire trying to fit into a new school or her new stalker boyfriend.
What do you do with your best and most popular character (and Emmy-nominated actor)? You separate him from the rest of the cast and give him his own lame storyline.
As much as I hated the "Save the Cheerleader, Save The World" campaign, at least it showed that the story was going somewhere. This year, I have no clue what the hell is going on.

H.R.G. is the only interesting character on the show.
Given how great and exciting "Five Years Later" was in season one, isn't it clear the producers should have let Peter blow up New York?

I'm going to keep watching but I just can't muster up the energy to write about this show.

Countdown to

Lost

begins now