Down With the King: Costello and Comics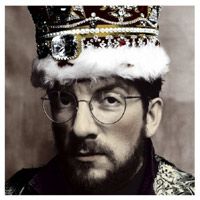 "I'm Elvis Costello, bitch."

Funny-man David Lee Roth supposedly once quipped that the reason rock critics loved Elvis Costello (and Van Halen not so much) was because rock critics looked like Elvis Costello.

One can only assume the same goes for comic book writers.

You see, some of my Prep-Time cohorts and I were talking all things Costello not too long ago; The subject, as it so often does when we get together, turned to comic books. I mentioned that it was actually Peter Parker who had gotten me into his music in the first place, and next thing you know we had ourselves a nice little laundry list of Costello references from our respective longboxes.

So without further ado, in the following paragraphs I will highlight a few of my favorite Costello comic references, and maybe even take a wild stab at explaining this curious phenomenon. As both a Costello and comic book nut, this may all come off as a little self-indulgent... But if I can't be self-indulgent on a goddamn comic book blog, then where the hell can I be? It's not like my wife wants to hear this crap.

Peter Parker, the Spectacular Spider-Fan

He had the merch...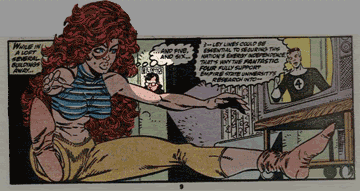 He knew the lyrics...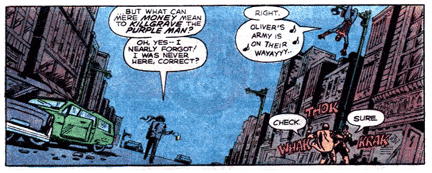 (This one is particularly strange when taken out of context, isn't it?)

He had the tickets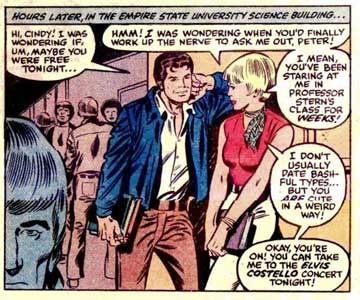 (Well, almost)



Hell, he even had the look!!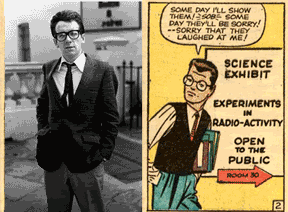 Pound for pound, no one is really seeing Peter Parker's Costello game. In fact, I should probably just end this entry right here and now. I mean, really, who loves Elvis Costello more than Spider-Man?

The British Love Elvis Costello More Than Spider-Man.



Let's get meta: Throughout the 80s, Alan Moore peppered his works with Costello references. During the 90s, Costello began to look like Alan Moore! ...Coincidence?

Okay, so no fictional character is touching Spidey; But what about real-life creators? Alan Moore, who by most accounts is an actual person, has referenced the man and his music numerous times. Why, here's one from a little book he did called Watchmen (maybe you've heard of it?)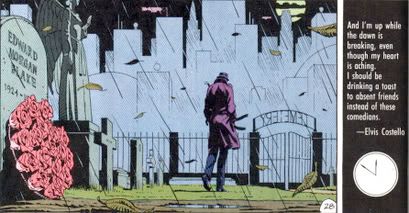 Or how about when myriad legal woes forced Moore to re-name the Marvel Man character? Luckily, his aim was true: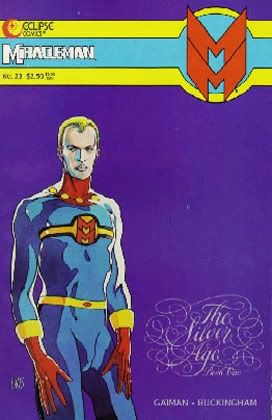 Not one to be outwitted (or out-Britted, even) Neil Gaiman has also been known to toss a Costello nod here and there. In fact, Sandman is practically drenched in them, generally incorporating song lyrics into the story titles a la Sandman #37:



Miscellaneous Sightings



I should point out that this phenomenon isn't exclusive to old musty comics from yesteryear. Comedian of Comedy Patton Oswalt's 'JLA: Welcome to the Working Week' owes its title to an early Costello track, and just months ago in Action Comics #830, Gail Simone contributed to the tapestry with a Lois Lane subplot that interpolated "Everyday I Write the Book."

Speaking of writing a book, that's kind of what I feel like I'm doing right now, so how about I wrap it up?

I think that if there is an explanation for this phenomenon, it's a pretty simple one: Nerds love Elvis Costello. I should know. I'm a nerd.

There's a certain quality to his song writing that appeals to literary types. I can imagine that many writers who came up in the 70s and 80s would have been heavily influenced by his wordplay. Meanwhile, the music itself has just enough aggression to sound almost dangerous. But make no mistake about it: While Costello may rock, he most certainly does not rawk. Frat guys do not do keg stands to "Moods For Moderns." Bikers are not thrown out of bar windows to "Allison." No one has ever crowdsurfed to "Veronica."

It's rock music for those of us genetically predisposed to not rocking. And what are superhero comics, if not rock 'n' roll power fantasies for guys who look like Elvis Costello?