I am an internet fiend; I'm also a comic book nerd. Through my surfing I've encountered the horror stories of cantankerous comic shop employees and the terrible "fans" that haunt the halls of 4-colored madness. Every so often I hear about the token comic shop owner that is burnt out on the medium he pushes to the masses. He is always angry and happy to squeeze those extra bucks out of your wallet. Damn those $7.00 back issues and the 40-year-old virgins/crooks!

But guess what? The stories are just that to me, nothing but fairytales of terror. Now over the years I've encountered a few bad apples; comic shop employees that hassle the young Pokemon-consuming masses (and their mothers). I have even put up with the, "if they kill Rainbow Raider and replace him with Don Johnson, I'm going to kill everyone at DC" fans. That was then, when I went from shop-to-shop each week to get my reality-escaping fix of fun. Those evils have since evaporated from my life.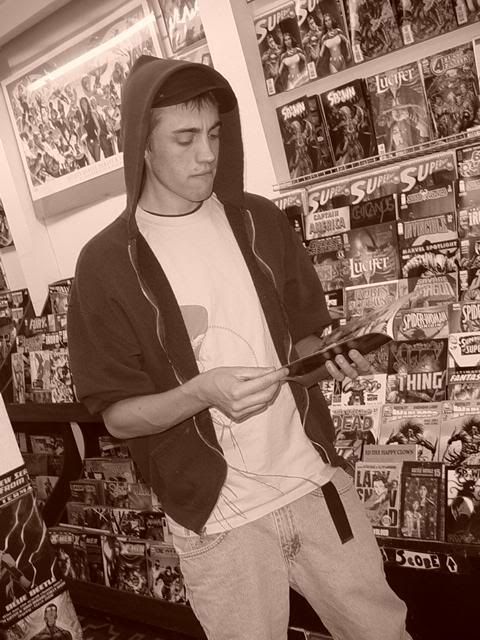 I'm 22-years-old and yes, I am a f!@#ing dork that loves my comics. I have also found THE SHOP OF ALL SHOPS. I am constantly adding and subtracting titles from my hold slot…at a whim! Most comic shop employees wouldn't and don't put up with that isht; "they don't have the time to cater to each customer's needs." Sure, you can get a hold slot at any shop you frequent on a regular basis but most of the time, the dudes that run the shop just put your pulls in your box and that's that.

At my shop, the guys that run it offer killer discounts to their customers, they care about the reader, they always get you each and every issue you request and they are even worth talking to. I hate going to comic shops and catching an ear full about "why Marvel sucks" and how the little kids that cop Yugi-Oh cards are so damned annoying.

John and Omar, the guys that run my shop are friendly, and smart. I look forward to chilling at Highlander each week because it affords me the opportunity to discuss politics, express my conservative views to a receptive crowd, converse about women, and even speak about the other (more disturbing) issues that our world revolves upon. And yes, a lot of ladies roll through Highlander Comics, probably because they feel welcome. I also get to be among a diverse, young, hip and neat crowd when I pick up my weeklies.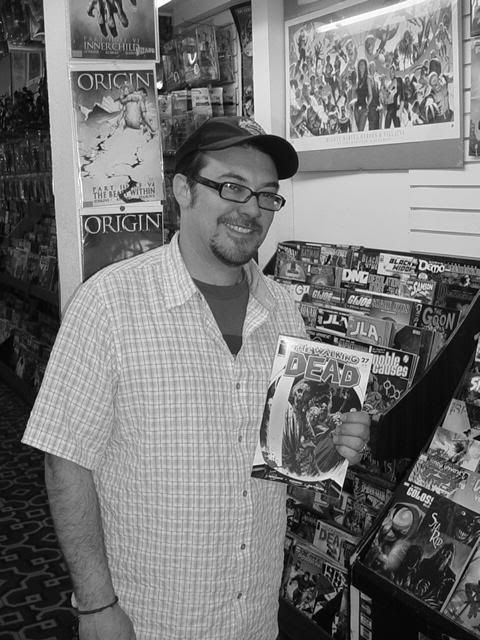 John Murphy, the owner of Highlander Comics
Hell, a couple weeks ago, a hilarious Denver stand-up comic was testing his new routine on those in the shop. Sometimes, the young anti-establishment-corporate crowd comes through on their lunch breaks, and despite the stereotypical views you may hold, those cats are hilarious. When they're around the conversation never fails to lead to big-booty women and the frills attached to getting plastered at the bar. My comic shop is also a great place to network; the owner John helped me get some PA work a few weeks back. One thing though, Omar hates graffiti. If you tag the shop up he will kill you, he can tolerate taggers scrawling on the doors of corporate America though…..or so he says!

Highlander is also in the niftiest and grimiest part of Downtown Denver, Capitol Hill. I never fail to land some free entertainment courtesy of law enforcement. It has gotten better though, the city has put video cameras on all the street corners in the area but once in a while you'll still encounter a stumbling drunk and/or coked-up hooker. It makes for a cool sociological journey each week because you literally walk the line between hood and city-living at it's finest. And yes, the area is safe!

Now I can go on and on about why Highlander rules but I won't, I don't have to. If you've been there once you've no doubt experienced the joy of the place. Everybody who walks through the doors...never wants to leave!

In short, we need more shops like Highlander. If every shop was a place that people could truly feel comfortable in, our medium would thrive. There is nothing like copping your comics each week minus the hassles of bitchmade store employees and lunatic customers.